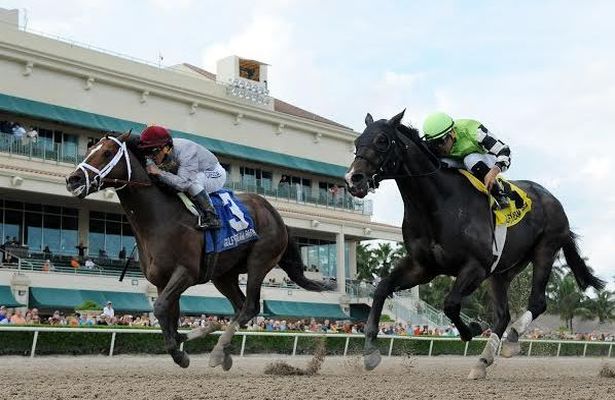 Mshawish by a neck over Valid: Photo Leslie Martin/GS Park
There wasn't much money to be made, but good handicapping is good handicapping, and I'm always trying to hone the craft.
A long time ago I made the decision that if I was going to take on the opportunity costs of a race I should also make the effort to review not only my handicapping post race, but also my bet strategy to see if what I did made sense, and more importantly, made a return on my investment.
Hal's Hope G3 Gulfstream Park Race 7: 9 January 2016
The key to my
Hal's Hope
strategy was plugging
Grande Shores
into Show. I expected a different pace scenario and expected him to be moving forward and not backwards at the line, but regardless, he was 5th on the tote board and I had him third. With
Valid
/
Mshawish
covered for Win and Place, and
Grande Shores/Matrooh
covered for Show a $2 Bet costs $8 and it offered a $33.40 return. $8 for $33.40 is a good ROI for a 5 horse field. The Superfecta wasn't worth the bet and seldom is in small fields, returning only $6.34 for $1 buck. It's so easy and tempting to rip up the tickets and walk away when your bets don't work, but take the time now and then to think about the results and what you could have done differently and you'll improve.
San Pasqual G2 Santa Anita Race 8: 9 January 2016
Picking
California Chrome
isn't that hard, and the top four on the tote board finished in the top four here which doesn't bode well for wagers unless you single or use a matrix. The matrix I assembled but didn't bet for
The San Pasqual
was 5/4 OVER 5/4/6/2/8 Over 4/6/2/8 OVER 6/2/8. A $1 bet would have cost $30 and returned $57.20. While still a positive ROI, you'll leave money on the table when you are being discerning. I was more into the return of
Chrome
as a fan than a bettor and no regrets to pass on this wager.
Anyway's, it's a good start for the Turk and his red gel pen in 2016. Happy Handicapping to Everyone.
Turk Out!